Another fantastic show review of one of our dear and awe-inspiring friends, Sons of Hippies.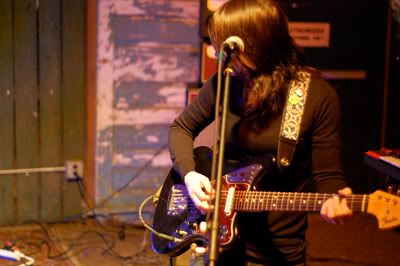 From Creative Loafing Tampa's Matthew Spencer:
"Bookending the show was Sarasota band Sons of Hippies with a set full of percussive, psychedelic rock from their 2009 album, Warriors of the Light. Frontwoman Katherine Kelly tripled her duties with vocals, guitar and keys, occasionally hunched over and wielding her instrument in a sort of possessed square dance. It was precisely that kind of reckless abandon that egged the crowd on for 45 minutes. Drummer/vocalist Jonas Canales and bassist Mike Mok fed off Kelly's confidence and provided just enough gusto to support her abstract words.
The energy reached a fever pitch when the trio debuted two new songs from their next album, due out in August, kicking up the rhythm and incorporating Mok on background vocals, and generally amping up the intensity to great dynamic effect. Sons of Hippies provided a rousing end to an evening of diverse music that, overall, would make any local music fan proud."
Read the rest from Creative Loafing Tampa
They never cease to amaze us here at Finch House.