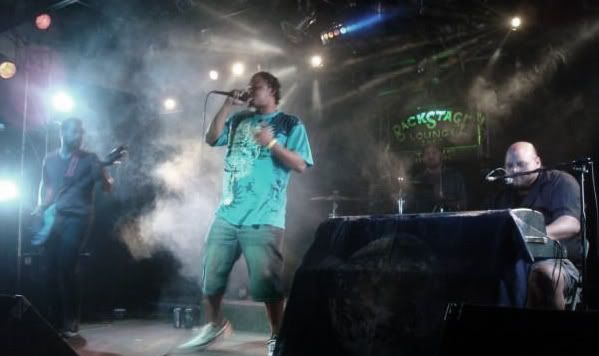 (You won't be hearing "REEEEEEEMIX" in any of these features)
"Big Blu House takes the nonchalant swagger of spoken-word hip hop and fuses it with jazz, funk, soul and rock beats and grooves into relevant musical mosaics." -Dawn E. Scire, Sarasota Herald-Tribune
Big Blu House spent the past year building quite a name for themselves in Sarasota. They've gotten a reputation for closing out shows, big crowds, and as I've seen with my own eyes- double encores. For everyone reading this, there is no question about these guys; they bring it to their live shows.
Their four song demo earned them a spot on Creative Loafing's 2009 Summer Guide, and now the guys are pre-selling their self-titled debut at BandCamp and iTunes. Digital sales on BandCamp will go towards the cost of making CDs, which will be shipped out once they're available (Ed. Note: They're Track 5 on the Noise Ordinance CD).
From Creative Loafing:
"On stages all over the Suncoast, the four-piece — comprised of "Big" Leon, J-Blu, Jeph "House" and David "Double D" — delivers P.A.-rattling jams that get asses moving, but also put your brain to work, the latter thanks to MC J-Blu's crafty wordplay." -Cooper Levy Baker.  Read the entire review.
Check out the remix for "Music Mistress" by Alexandre:
Big Blu House – Music Mistress (Alexandre Remix) by alexandresounds