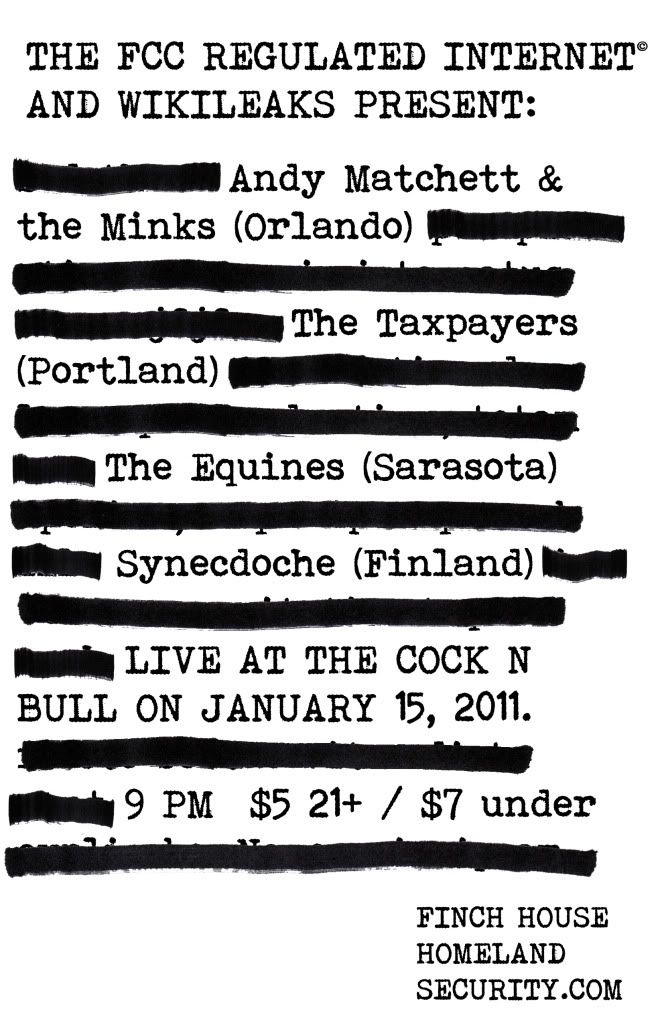 Orlando's Andy Matchett & the Minks landed themselves on several year-end lists around Florida for 2010 from the anticipated release of their first full length, The Apple Tree Circle, as well as notoriously fun/messy crowd-eating parachute shows.
Some of Portland, Oregon's The Taxpayers spent their holidays in Florida, and we got to know them from a combination house show boogie-board pit surfing, and this new interview for AMP Magazine. Rad.
It was a big year for The Equines, between bringing Sarasota style jams across the coast (including 3 of 5 boroughs of NYC) and capturing the coveted Best Random Fairy-Tale Attire spot from Creative Loafing.

The new multi-instrumentalist of The Equines, Sven Arvid Tadhg, is the brainchild of [synecdoche], writing and faithfully recreating in a live setting the music's complex movements, with a tendency toward demon exercising tangents.

JAN. 15, 2011
9PM
$5 21+
$7 under 21
The Cock & Bull Pub
975 Cattlemen Road, Sarasota, FL.
RSVP on Facebook