Music connoisseurs, you can come out now…
In the wake of a post-Noise Ordinance Sarasota, the word is out.  There is music here; bands come to town.  Your bands go out of town.  You could go out of town, and probably strike up reciprocated conversation about some of the music here.  People might know what you're talking about.  Bravo, lucky you!
This show, happening March 13 at C&B, is your victory lap.
From CL's soundboard: "The C&B is straying from their recent locals-only shows of support to present a colorful palette of out-of-towners to backup Sarasota's own Cassolette and The Equines. Down from Orlando comes the grunge-inspired garage-rock of Hot Hands and the melodramatic indie outfit Andy Matchett & the Minks. Matchett puts together catchy radio-friendly riffs while delivering clever anti-pop lyrics via clean vocal hooks, which cut sarcastically against the inherently poppy nature of the songs. Nashville's Slow Claw brings an interesting mix of major and minor chord progressions to accompany their various and unpredictable tempo changes, taking listeners on a random musical journey with no road map in sight." —Tim Sukits
Wait- there's more!  Facebook:
Finch House and Skiffle Presents:
Sarasota. Orlando. Nashville. All at Cock n' Bull Pub. We've brought all the heavy-hitters we could squeeze into one, unforgettable show.
8pm sharp. $5 cover for 21 and up, $7 for under 21.
Cassolette 9 – 9:45
Hot Hands 9:45- 10:30
Andy Matchett & the Minks 10:30 – 11:15
Slow Claw 11:15 – 12
the Equines 12-?


CASSOLETTE (Sarasota, FL)
Must see: This is the latest synth-pop sweetness formed from seasoned (but not jaded) veterans. Nay, I say- supergroup. Members of Kit, The Turncoat, Saint Sweetheart, This Is an Adventure, and Aaron Beasley. The tallest band in town, with the exception of Aaron Beasley.


HOT HANDS (Orlando, FL)
"Closing was the hit-and-run garage-pop of Hot Hands. Comprised of drummer Kristin Messina and guitarist Jeffrey Howard (whose collective résumé includes Jeanie & the Tits, the Courtneys and the Sharp Objects), the girlfriend-boyfriend duo bashed out a set that was exactly like my first kiss: amateurishly sloppy but totally awesome. Besides enjoyable music, the ridiculous exchanges between the two made the performance virtually a comedy act."– Orlando Weekly.

ANDY MATCHETT & THE MINKS (Orlando, FL)
"Andy Matchett fronts the band on vocals/guitar, with Megan Matchett on keys/vocals, Abraham Couch on bass/vocals, and Matt Mendel on drums/vocals. With beautiful full-band vocal harmonies and melodies backing up Matchett's graceful vocals, this band reminded me somewhat of the dark beauty of Radiohead's most subdued moments. There was one song that dusted off the Rock & Roll wheels, and had a very noticeable Paul Westerberg influence. Mendel's aggressively accurate drumming was an interesting component offsetting the band's gentle progressions. "
(Marc Ganancias, Tampa Bay Examiner)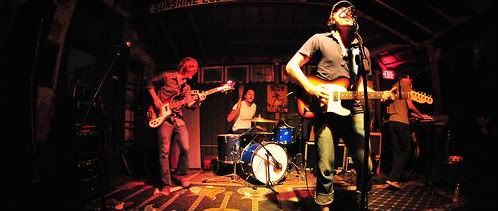 SLOW CLAW(Nashville, TN)
"Grandfather Clocks is a collection of fractured Pop songs with unique rhythms, slanted chords and an overall sense of arrangement that is impressively sporadic and unpredictable. Slow Claw has an imaginative approach to the use of space in their songs, layering the tracks with simple, hovering sounds that combine to create something intimate and often oddly ethereal. Though loaded with subtle hooks, the band's music eschews the repetition of Pop music for something more fluid and stream-of-conscious. Slow Claw is its own fantastic beast."
(Mike Breen, Citybeat. Cincinnati, OH)

THE EQUINES (Sarasota, FL)
"Erin Murphy's voice is haunting, with a rapid vibrato style similar to Stevie Nicks with a Folky twist. Mike Murphy's drumming has some impressive chops that fit tastefully in the overall mood of the songs, while Sink's bass lays down a heavy depth that filled the open-air patio nicely. The melodies from Ferris and Blewitt add an abundance of accentuating action to the upbeat sound of the band, and Murphy's & Sink's harmonies were spot on. The band's style is a melding of late-70s Post-Punk with Pop sensibilities, mixed with a bit of Southern Folk."
(Marc Ganancias, Tampa Bay Examiner)