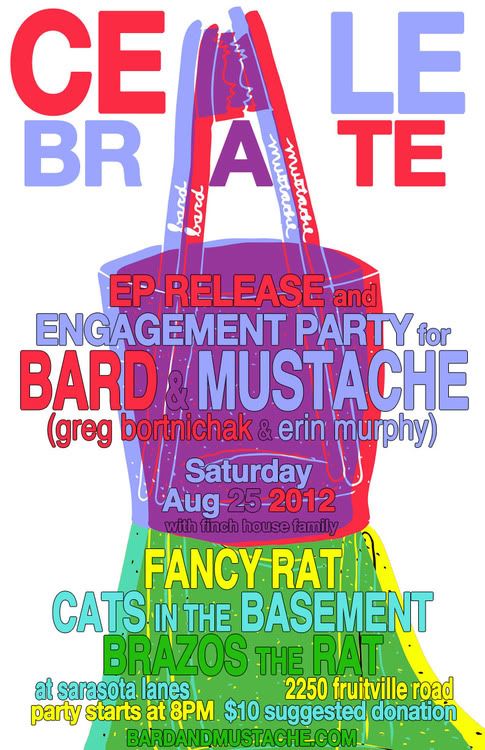 We sure have a lot to celebrate…
Our new EP, "Bitter Painter," officially drops on iTunes and Amazon via Atlas/Finch House Records August 21st!
And, as a surprise to almost no one, Bard and Mustache are officially engaged as life partners. Yahoo!!
We're having a party at the classiest of party joints, Sarasota Lanes, Saturday 8/25. We've asked a few of our close friends to party rock the s–t out of the bowling alley and are asking all of our friends (YOU!!) to come dance and cheers to great things like FACE PAINTING, a SELF-SERVE PHOTOBOOTH, and a COLORING STATION.
PARTY ATTIRE – come as your favorite crayon color (or whatever you have lying around)
PARTY STARTS AT 8pm! Show starts promptly at 8:30
BARD AND MUSTACHE acoustic set
BRAZOS THE RAT
CATS IN THE BASEMENT
FANCY RAT
BARD AND MUSTACHE, full flavor
ALL AGES
$10 suggested donation
RSVP Facebook

View Larger Map
AFTER-PARTY at Shamrock Pub, where DJ EW will be spinning 90′s dance music on vinyl!!!
We will be hitting the road again on tour this September through October, and have plans for a year-long tour in a camper starting in the summer of 2013. We'll be planning, recording two full-length albums, and paring down our material possessions in preparation for our "big dream" undertaking.
For those who have asked about a registry, we are not registered anywhere but would be incredibly grateful to accept gifts of gas cards and grocery store gift certificates. We won't need much aside from those two types of fuel to keep us moving towards our dreams. :)
With much love,
Erin and Greg
Bard and Mustache